Highlights of Malaysia

Kuala Lumpur
Kuala Lumpur is the capital city of Malaysia with a population of over 1.5 million people. Kuala Lumpur is a busy, bustling city with a real mixture of cultures, amazing food and some interesting sites to visit.
One of the main attractions of Kuala Lumpur Chinatown which is found along Petaling Street (Jalan Petaling). Along Petaling Street are many stalls selling a variety of products including souvenirs, leather handbags, tshirts, DVD movies, CDs arts and crafts and a selection of Chinese food and snacks.
Read more about Chinatown Kuala Lumpur
Central Markets (Pasar Seni) are the cultural markets located close to Chinatown in Kuala Lumpur. The markets started in 1888 to serve Kuala Lumpur's large tin mining community with fresh fruit and vegetables. The building it is in now was built in 1936 in the art deco style. It was to be demolished in the 1980s though the Malaysian Heritage Trust puchased it and started the cultural markets in 1986. There are various products from Malaysia, India, Thailand on sale within the air-conditioned markets.
Little India in Kuala Lumpur is located on Lebuh Ampang. It was originally a 'kittinghi', a traditional money lending establishments set up by the Nattukottai Chettiar, a community from southern India and were the founders of modern banking in Malaysia. The area has now been taken over by Indian shops and restaurants.
Batu Caves are found on the northern outskirts of Kuala Lumpur around 13Kms from the centre of the city. There are 3 limestone caves that make up Batu, the largest of these contains a Hindu temple. At the entrance of Batu Caves are lots of monkeys waiting to be fed. To get to the entrance of the caves there are 272 steps to climb.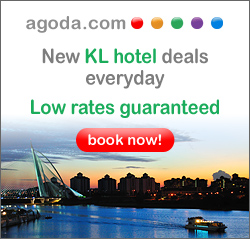 Last updated 23rd January 2011
Petronas Twin Towers Kuala Lumpur
The Petronas Twin Towers were built in 1998 at which time they were the tallest building in the world with 88 levels and 452 meters tall. The sky bridge on levels 41 and 42 are open to the public from 9am - 7pm daily except on Monday.
Kuala Lumpur Tower
Kuala Lumpur Tower is 421m tall and located close to the centre of Kuala Lumpur. It's observation deck gives great views all over Kuala Lumpur. The KL Tower is surrounded by the Bukit Nanas Forest Reserve which has flora and some monkeys.
Sri Maha Mariamman Temple is located on Jalan Tun HS Lee within Chinatown Kuala Lumpur. The temple was originally built as a private shrine in 1873. It was opened to the public in 1920. The entrance gate is carved with several Hindu gods including Lord Ganesha, Lord Muruga, Lord Siva and Lord Lakshmi. The entrance gate is 23m high with 5 tiers. Kept in a vault within this Hindu temple is tallest hindu silver charriot in Malaysia.
The National Mosque is an architectural tribute to Islam, the official religion of Malaysia. The mosque is situated on 13 acres of land with a coutyard measuring 153 sq feet and a tower with over 245 steps. The Mosque was officially opened by the King of Malaysia, His Majesty Tuanku Syed Putra Ibni Almarhum Syed Hassan Jamallulail on 27th August 1965. The mosque can hold up to 15,000 worshippers. The mosque houses a library, offices and a mausoleum for the nation's heroes. Only muslim visitors are able to enter the mosque.
Shopping in Kuala Lumpur
If you like shopping then you will love Kuala Lumpur with a choice of modern shopping malls and huge open market places.
Berjaya Times Square Shopping Complex is located in the heart of Kuala Lumpur has a great selection of shops specialising in electronic products like DVDs, laptop computers and digital cameras. This shopping complex also has a Cosmo's Indoor Theme park with 14 major rides. There is a also a cinema complex.
One of the largest markets in Kuala Lumpur is Chow Kit Markets. These markets are huge with aisle after aisle of stalls selling everything from fish, meat and vegetables to clothing, leather handbags and shoes.